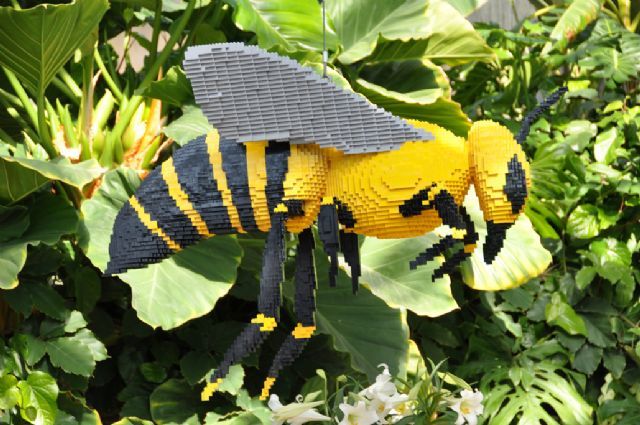 To explore Lego art at Lauritzen Gardens in Omaha, Nebraska tends to bring out the kid in almost everyone. Lego blocks and children have been together since 1949 when they were first created. The grandchild of the founder, Kirk Kristiansen is the current owner of this delightful wonderland.

A Living Fantasy
Many people cannot believe that the breathtaking pieces displayed and made by the brilliant artist are actually Lego blocks. The constructivist brought nature and fantasy together and created an aura that can be found nowhere else in a living yard such as in Omaha, Nebraska, at the Lauritzen Gardens.
Excitement And Exhibition
Named "Toy of the Century" twice, it is the Lego company's traditional brick that kids play with in the present day. Visiting the Gardens brings excitement and fun to all ages of people, encouraging play. The magnificent displays of thousands of blocks built into wondrous animals, people, insects and more, simply baffle onlookers.
Sean Kenney Sculptures
Sean Kenney is an artist that makes many different kinds of art that all have one amazing thing in common, Legos! Sean Kenney's work can be found in Omaha, Nebraska at the Lauritzen Gardens, but the "Nature Connects Art" with Lego bricks is Kenney's limited time exhibit. This exhibit is open from now until May 15th, and it cost $10.00 for adults, $5.00 for 6-12-year-olds, and under six is free. The 14 new, exciting displays have over 450,000 blocks and are truly incredible.
All in all, Lauritzen Gardens puts one into a world of nature, color, scents and sculptures. A fun time for the family or a group, one can come and enjoy the sights and activities for little cost. Hopefully, each person will take what ideas to build are here and expand upon some of it. Lego building blocks have grown with the times and with the children who play with them and own some. Make sure not to miss out on Lego art at Lauritzen Gardens today.